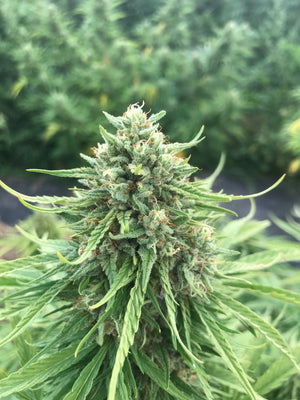 Cherry Blossom Feminized CBD Seeds
Sale price Price $1,000.00 Regular price
Blue Forest Farms feminized CBD-rich hemp seeds are bred on a USDA Certified Organic 237-acre farm in Longmont, Colorado. Blue Forest Farms is legally registered with the Colorado Department of Agriculture.
Blue Forest Farms provides 3rd party test results from reputable labs in the industry. These tests demonstrate 99.95% or better feminization, 90% or better germination rate, compliant levels of THC, and high levels of CBD.
The Cherry Blossom variety is a Feminized Cherry Wine S3 x Berry Blossom S1 hybrid averaging nearly 17% CBD from whole plant composite samples. This variety has proven success remaining under the 0.3% delta-9 THC threshold. Cherry Blossom averaged over 2,000 pounds of dry whole plant material per acre. This is a fantastic option for both the new farmer and the most experienced.
Germination rate: 96%
Plant size and spacing: Medium, recommended plant spacing 4' x 4'
Potency: 39:1 CBD to THC (depending on time of harvest and climate variables)
Harvest: 6 - 7 weeks indoor/Mid to late September outdoor
Yield: Average 1 - 2 lbs per plant
Bred by: Blue Forest Farms